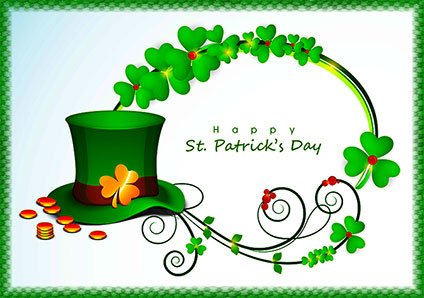 It's green day at Chaplin School on March 17th
Hello Everyone!
SRC has planned a Valentine's Spirit Week starting February 8th – 12th!
Monday, Feb 8 – Class Colours
Show your love for your class!
Mrs. Geiger: Purple
Mrs. McLeod: Blue
Mr. Warren: Black
Tuesday, Feb 9 – Couples's Day                                                                         
Dress as your favorite duo, ex: Bonnie and Clyde, Mickey and Minnie, Archie and Veronica, Fred and Wilmaetc…)
Wednesday, Feb 10 – Hat day                       
Have a bad hair day? No worries cover it up!
Thursday, Feb 11 – Red and Pink Day
Wear red and pink colours to celebrated Valentine's Day               
Friday, Feb 12 – Date Night
Dress to impress!
Hello Everyone!
SRC has planned another Spirit Week starting January 11th – January 14th.
Next week is going to be exciting as each day will be a different dress up day.
The dress up days are as followed:
Monday: Marvel Monday
Come dressed up as your favorite Marvel Character
Tuesday: Vacation Day
Come dressed up as if you're going on a vacation to your favorite place.
Wednesday: Western Day
Come dressed up in your hat and cowboy boots
Thursday: Finals Day
Come dressed up as a stressed out high school student ready to take an exam
Stay tuned here for the latest SRC events planned for the 2020-2021 school year
Hello Everyone!
Education Week is November 23-27     
Theme: Connecting and Learning in New Ways
Teachers will be doing different activities throughout the week with all the students.
Wednesday, November 25 is Spirit Day! Kids can wear the school colors, yellow, black and white.
Friday, November 27 is National Jersey Day! Kids can wear their favorite jersey to school.

Hello Everyone! 
Chaplin School's holiday fundraiser – Little Caesar's Pizza Kits – starts today until November 24th. Order your pizzas online, contact a student, or contact Mrs. Teresa Leisle at the school to stock up on these quick and easy pizza dinners. Not only are they fun for the whole family to make, they are also delicious to eat!
Go to www.pizzakit.ca Click on products and then shop. Support our fundraiser by providing our ID# 384910 and pay with a credit card. Your pizza will be delivered to the school and be ready for pick up on December 9th.